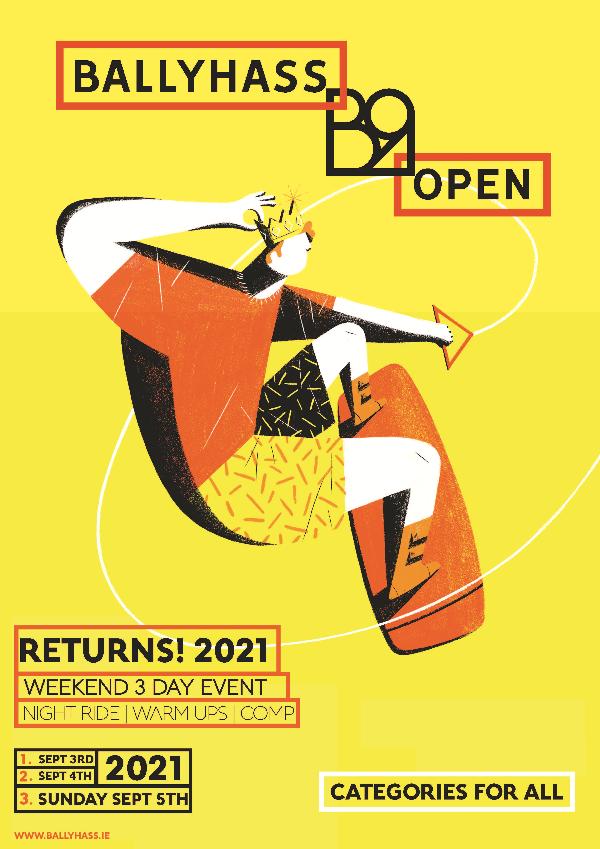 The one and only Ballyhass Open is finally back!!!
3rd to the 5th September.
Buy your ticket online through our events section and fill out the registeration form below
The annual Ballyhass Open is making its grand return from the 3rd to the 5th of September 2021! It will be bigger and badder than ever, with us introducing our brand new format of a head-to-head Open. This competition welcomes all, from those who have just learned to hit an obstacle all the way up to those who throw Raleys like they are nothing! We are buzzing to finally be back. We are offering tonnes of time on the water, fantastic prizes, our brand new on-site catering and the usual Ballyhass welcome to celebrate the biggest wakeboard comp of the year!
This wakeboarding event will run for 3 days with the following itinerary:
Friday:
Junior Practice Jam: 4pm - 7pm
Late Night Senior Practice Jam: 7pm - Late
The evening will be BYOB and you are more than welcome to bling up those boards for the night shred under our amazing floodlights.
Saturday:
Check in: 9:30am - 10am
Riders Briefing: 10am - 10:30am
Rookies and Intermediate Competition: 11pm - 2pm
Lunch: 2pm - 3pm
Ballyhass Open: 3pm - 6:30pm
Dinner: 7pm - 8pm
Prize Giving: 8pm - 8:30pm
Social Event (Kelly's Bar, Kanturk): 9pm - Late
Sunday:
All Day Jam: 10am - 5pm. Fun competition running throughout the day for Best Kicker Hit / Best Rail Hit / Best Fall.
Fun Comp Prize Giving: 5pm - 5:30pm
Open Format 2021:
Rookie/Intermediate Categories:
1 Run of 3 Laps
Unlimited Falls
Random Starting Order (Announced in the Morning)
Open Category:
2 Runs of 2 Laps
Best Run Wins
Head-to-Head elimination rounds (Announced in the Morning)
No Falls
Random Duels
(1 Lap - Up and Back to the Start Dock)
(No Falls - Straight Back to the Dock after a Fall)
The entry fees will be as follows:
Entry Fees: €65
Under 18: €60
Ballyhass Adventure Pass Holders: €50
These will include:
Competition Swag Bag (Brand New Tee, Lanyards, Beanies, Stickers, etc)
Open Jam Friday til Dark
All Day Open Jam Sunday 10am till 6pm
Saturday Morning (coffee & pastry)
Saturday Lunch (Ballyhass Let's Eat)
Saturday Night Dinner (Ballyhass Let's Eat)
Ballyhass won't be able to provide accommodation, however there are options such as local Airbnb's and Hotels. Infinity English College (Church St, Kanturk, Co. Cork, P51 P7W5) has offered the following: 2 night twin/quadruple bed & breakfast.
This is your chance to become the coveted Ballyhass Open Champion! Our top judges will be watching closely throughout the event, ready to crown the champ! We have limited numbers so make sure to get in your entry early.
Even if you aren't interested in competing, the spectators are the soul of every event. With our brand new seating pods and board benches, we welcome everyone to come down for the weekend to enjoy the classic Ballyhass event vibes, as well as the pinnacle of Ireland's Wakeboarding Scene!
Follow this link to get your entry in today: Entry Form. Please note that the CLOSING DATE for entries is SATURDAY 21st AUGUST 2021.
Be sure to follow us on all of our social media, including our Facebook Group, to stay updated on all things Ballyhass Open 2021!