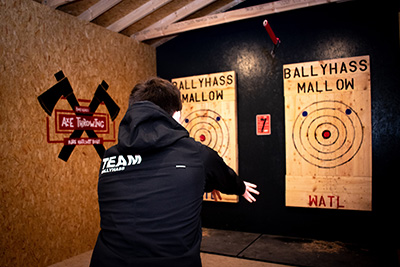 We are buzzing to be launching our first ever youth league (16 - 21yr olds) These evenings are so much fun across the board and really bring on your axe throwing skills. Regular throwing is key. Our coaches and regulars are on hand each evening to improve your technqiue and talk you through the rules of this awesome sport.
Fast Facts
- Sunday Evenings 7pm - 9pm
- Comp starts 7pm
- 4 matches per night
- Practice begins 6 - 6.30
- Free Pizzas
- Free tee shirt
- €75 for 5 weeks starting Novmeber 21st
- See your scores online after each week.
- Free entry for finalists to our full WATL winter league
- Winner recieves their own WATL professional axe
WATL
We are members of the World Axe Throwing League and as part of that we get to take part in this league system 4 times a year. Each league you have the chance to earn a bid and entry to the world axe throwing chamionships generally hosted in the US. Its an amazing event to meet new people and have serious craic. Be warned its addicitive!! This youth league is the perfect intorduction to youth throwing.
5 Weeks
Its an 5 week league. This is made up of 4 weeks of 4 matches. You will look to imrpove your game score first trying to improve and beat your randomly slected oppenent who is there on the week. Then you will start looking at your weekly scores of 4 games combined. Finally you will turn your attention to your season score. On the final week there is a knock out combination where you are seeded on the pervious 4 weeks of points scored. Its double elmination which means you have to lose twice to be knocked out. Its an incredibly fun evening that we all look forward to. To earn your bid to the wrolds you must have enough points scored over the first 7 weeks and win your league. Its no easy task!
3 weeks to enter
You will see three dates avilable to enter. You can sign up on any week but you will be required to throw catch up throws that will amount to seven weeks throwing. You can only miss two weeks. Any more and you will only have 2 weeks of throwing to bring into the final week.